Oleander & Palm and the One Room Challenge™
By Bedrosians Tile & Stone | 11/11/2019
We're excited to present an outstanding entry in Better Homes and Garden's One Room Challenge™. ORC, currently in its sixteenth season, is a widely anticipated biannual event that showcases twenty designers/influencers vetted and selected by the ORC team to transform one room in their home and share the process over six weeks on their websites/social media forums. These designers are guaranteed to inspire, entertain, and inform their audience with new ideas and trends in the world of home design. The talented stylist, photographer and blogger Jeran of Oleander & Palm joined the challenge this past spring and transformed her kitchen using tile and stone from Bedrosians. The results are nothing short of amazing!
Kitchen Before 1 - an early 2000s design
Source: Oleander & Palm, ORC week 1
"This is not a total gut job by any means, it's really just some cosmetic updates. So, I feel like 6 weeks is doable. The cabinets are in really great condition, they just need a fresh coat of paint and some new hardware and hinges. The countertops and backsplash definitely need to go though. I know it looks like I have granite countertops, but in fact, they are just 12×12 granite tiles and with tile comes GROUT. And groat lines on countertops are the WORST! The grout lines are literally magnets for crumbs, dirt and grime. I feel like I'm ALWAYS cleaning them. And rolling out cookies or pastry dough is terrible. I really can't wait to have one solid, seamless work surface." - Jeran said.
It was Jeran's plan to create a Californian Craftsman Kitchen. That meant mixing up the warm wood tones in her home with cool paint colors and neutral tile and stone combinations.
1 // 2 // 3 // 4 // 5 // 6 // 7 // 8 // 9 // 10 // 11 // 12 // 13 // 14
"I teamed up with Bedrosians Tile & Stone on this room makeover and they have been a dream to work with. The team in Bakersfield is the best! I couldn't have found a better floor, countertop or backsplash anywhere. They have so many options, but I think I went with the best! This honed marble is pretty much the prettiest thing I've ever owned. I've been wiping it down and polishing it over and over." - Jeran said.
"Oh man the tile is gorgeous you guys. And one point in this renovation I thought I might just save some money and just keep the floors as is. Oh gosh I'm glad I changed my mind. These hex tiles from Bedrosians make this room! The backsplash is even better then I thought it would be and I'm so happy that I went with the matte white finish. The room feels so much bigger and brighter with light countertops and light backsplash. It's amazing the difference it makes," Jeran said about her tile floors and backsplash.
Jeran is so pleased with her countertop choice.
"My marble countertop dreams are all coming true! GUYS, I'm getting honed marble countertops EVERYWHERE!!!! I'm so excited to be working with Bedrosians Tile and Stone on this One Room Challenge. Their slab selection is insane, but for as long as I can remember, I've always wanted marble countertops. The honed finish is just icing on the cake. Honed marble is not polished or shiny, the finish on the stone is smooth and matte with very little reflection."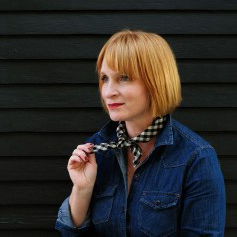 We love the design style of Oleander & Palm. Jeran, the creator of Oleander and Palm, focuses on Simple California Living. She designs and makes livable spaces that incorporate vintage finds, handmade pieces and global inspiration. She loves helping people find attainable beauty in the lives they live. Her creativity and industriousness were honed through years of living in third world countries that challenged her to find novel solutions for creating livable spaces. A former educator and mother of three, Jeran has settled in sunny California, where her skills and styles are evolving in exciting new ways! Read her blog and follow her on Instagram (@oleanderandpalm)
Week 1 | Week 2 | Week 3 | Week 4 | Week 5 | Week 6 - The Reveal!