Step 2: Which Slab is Best?
Combine functionality and design to chose the right slab, material finish, and edge. Planning ahead will help you make an informed decision once you are ready to visit your local slabyard and make a selection.
So how do you choose the right slab material?
When selecting your countertop it is important to choose a material that will meet the functional needs of your space as well as the desired aesthetic. You may be selecting countertops for your family kitchen, a rental property or for a home you plan to resell so be sure to consider who will be using the space.
Popular Materials for
Kitchen Countertops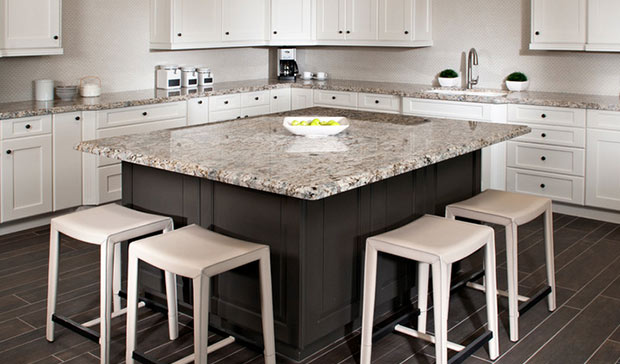 Granite
Most commonly, Granite slabs such as Black Beauty, have gained popularity with homeowners because they are very durable and a reliable choice to count on. Granite is scratch resistant, durable, easy to clean and unique in appearance from slab to slab.
Cost: Around $50 - $100 per square foot installed.
Tip: Mild household cleaners are suitable. Most natural granite should be resealed annually.
Marble
Marble Slabs such as Super White and White Carrara have a classic and timeless beauty, however, since they are softer and more porous than granite, marble can scratch, stain, and etch very easily. If you love the look, don't be afraid to go with marble — just make sure to keep this stone sealed and wipe up any spills immediately!
Cost: Around $50 - $100 per square foot installed.
Tip: Polished marble is much more likely to etch than honed marble. For this reason, people tend to choose a honed finish for marble countertop.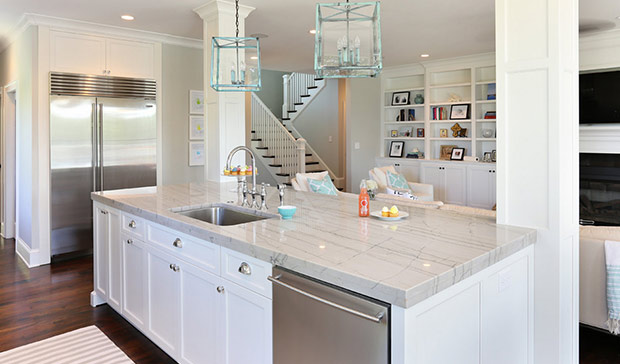 Quartzite
For customers who desire the look of marble and the durability of granite, Quartzite is a great countertop option. Most varieties have the light color tones of marble with similar grey veining patterns. This hard wearing material is scratch resistant but still requires sealing.
Cost: Around $80 - $150 per square foot installed.
Tip: To keep your quartzite countertops in top shape, clean up spills quickly and be careful with grease and acidic foods.
Popular Materials for
Bathroom Countertops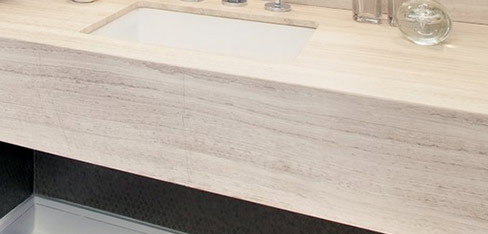 Travertine
Travertine countertops can provide a beautiful and elegant look to your bathroom. This natural stone is affordable and comes in a polished or honed finish.
Cost: Around $40 - $100 per square foot installed.
Tip: Polished countertops can provide a more refined look but can show more wear over time. Many prefer a honed finish as it's surface can help hide any etching or scratches. Travertine is acid sensitive so be sure to keep this stone sealed.
Limestone
Limestone countertops work with many styles as they come in a wide range of colors from ivory to grey to gold. Most varieties come in a honed finish and contain marine fossils throughout the stone.
Cost: Around $50 per square foot installed.
Tip: Similar to Travertine stone, Limestone is sensitive to acids. Make sure to seal this stone periodically to prevent etching and maintain its original beauty.
Popular Materials for
Walls and Backsplashes
Onyx
Onyx is most suitable for wall applications like a backsplash, fireplace, or wainscot. Onyx has an exotic and fragile appearance that can compliment many modern and contemporary designs, particularly when back-lit.
Cost: Around $70 - $100 per square foot installed.
Tip: Onyx should be used in low-traffic areas or low use areas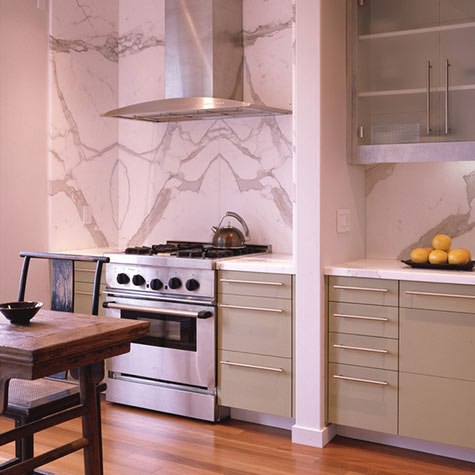 Marble
White Marble slabs such as Calacatta Oro or White Carrara are timeless varieties that work with both modern and traditional kitchen designs. If you love the look of marble countertops but are worried about the staining, a full-height slab of marble as your backsplash allows you to enjoy the look of marble without the worry of it being high maintenance.
Cost: Around $50 - $100 per square foot installed.
Surface Finishes
Another decision you will have to make during the slab selection process is the surface finish. While you are probably familiar with a polished surface, you may want to consider some of the other options.
Tips:
If you are unsure of what finish you want, consider your space's other finishes. Coordinating with the cabinets, walls and backsplashes will yield a more cohesive aesthetic.
Polished
Achieved through a grinding and buffing process, this type of treatment leaves stone with a sleek, slippery surface and high-gloss finish. It is known for its ability to reveal the true color and character of stone. In order to maintain the luster of polished finishes, the stone must be maintained through with proper cleaners and occasional resealing.
Honed
Also known as a matte finish, this type of finish is achieved through a sanding process leaving a satiny-smooth surface. Stone with an honed finish requires more frequent resealing but is less slippery and known to conceal flaws better than other finishes since it does not have a reflection.
Leathered
This finish adds texture to the surface. Leathering often used for black and other very dark materials. For example Absolute Black comes in a subtle leathered texture as well a smooth honed finish.
Tumbled
A weathered, aging finish is achieved when the stone is tumbled with sand, pebbles, or steel bearings. Tumbled stone may present chipped edges and imperfections created by the tumbling process. These characteristics give the stone more of a worn, old look.
Edge Treatment: The right edge for your countertop
Here are a few illustrations of countertop edge profiles for reference. As you can see the options are almost limitless. Keep in mind that detailed edges are more expensive.