Modern Farmhouse Interior Design | Bedrosians Tile & Stone
By Bedrosians Tile & Stone | 5/29/2018
Modern farmhouse decorating is warm, cozy, relaxing, and full of charm, character and personality. It's a nod to a simpler time, with contemporary style and comfort added in. People are now looking to embrace tradition while surrounding themselves with things that make them feel good. Arizona homeowner, Liz Roth, has perfected this look and feel in her recent home renovation. She shares her home and its design progression on her Instagram page @desertdecor.

When it came time for Liz to start her kitchen remodel, she knew she wanted patterned tile and something that would pull together the warm greys in her home and reflect her overall country French style. Inspired by her neighbor and fellow Instagram design influencer Jaclyn Hodge (@shabbydesertnest), who used our Palazzo porcelain in Bloom Deco in her kitchen, Liz and her husband started looking for that perfect patterned tile at Bedrosians Tile & Stone in Phoenix, AZ.
"After looking at tons of cement tile options, I think we narrowed it down to a shop that has just wowed us with their selection. Not only that, but their customer service has been amazing. And we love that there is a local store where we can actually touch and feel their samples. We're so happy we narrowed it down to Bedrosians and now it's just a matter of picking our favorite pattern," Liz Roth said.

Drawn to the bold graphic pattern, yet muted grey tone, Liz and her husband chose our Remy cement tile in the Damsel pattern.
"Although we LOVE the Damsel tile, and wanted it everywhere in our home, it is unique due to the thickness of the tile. It made it challenging to select this tile for our backsplash in our kitchen, but allowed us the opportunity to use it somewhere more unexpected. We decided to use it in a smaller portion on our island," Liz said.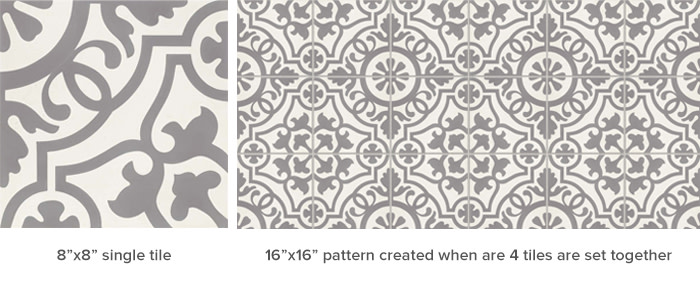 But what about the backsplash? Now that the cement tile was to go on the island, Liz needed to come up with a new idea for the backsplash. Because her lower cabinets are grey and uppers are white, she needed a tile that would marry her patterned tile to the cabinetry. Enter our Costa Allegra ceramic tile in the Cinder color.
"During our kitchen renovation we had hoped to tear out these obtrusive soffits above our cabinets. Sadly when we tore into them we realized there were electrical, and plumbing pipes running through the soffits. We decided to mask their presence in the kitchen, by tiling around them with the Costa Allegra tiles," Liz said.
The soft grey and white cabinets, crisp white sink, counters and woodwork blend beautifully with the Costa Allegra Cinder subway tile, creating a palette that brightens any color brought into the kitchen.
Costa Allegra 3"x6" ceramic subway tile in Cinder | Remy 8"x8" cement tile in Damsel

Because Liz and her husband were so taken with the Remy cement tile in Damsel and they could only use it in a smaller space than originally intended, they chose to go bold and tile the walls of the nearby bathroom, just off the kitchen.
They even decided their tile needed to make an appearance in the master bedroom, as well, so they tiled their fireplace.
Remy 8"x8" cement tile in Damsel and Costa Allegra 3"x6" ceramic tile in Cinder on fireplace

Explore more of this beautiful home, @desertdecor, on Liz Roth's Instagram page. See how she brings all her spaces together in this charming and delightful farmhouse!

Our Remy Collection is a cement tile that breathes new life into an old-world design. Use the cool sea blue and warm grey solid colors and mix of patterns in Remy to create exciting floors, backsplashes and walls. The eight distinctive 8"x8" patterned designs can be used for a whole floor or wall, or as an inlaid tile rug or accent section of a wall. The six solid 8"x8" tiles colors can be used on their own or combined with the decos, giving you free reign for creativity.