The Magnitude of Magnifica®
By Bedrosians Tile & Stone | 12/20/2017
Large Panel Porcelain, Thin Porcelain, Porcelain Slabs, Gauged Porcelain - all are terms to describe an innovative floor and wall covering concept gaining major traction across the tile and stone industry.
Designed as a cost-effective, maintenance-free alternative to stone slabs, these giant 10"x5"-ish foot porcelain slabs bring projects the scale and elegant style of natural stone, while expressing all the benefits of porcelain in a product of unrivaled performance and appearance. Not only are they large, they also are extremely slim, with profiles as thin as 1/8" (6mm) and 1/4" (12mm).
At Bedrosians Tile & Stone, we call it Magnifica® Porcelain. Magnifica® is a perfect surface for creating seamless countertops, islands, floors, walls and ventilated building facades because of its thin profile options and large dimensions. Designers and architects are drawn to its sleek aesthetic that allows for minimal grout lines and the grandeur of a solid wall or floor.
The qualities that make porcelain a winner for kitchen and bathroom counters, floors and walls – its durability, versatility and low maintenance – make it a winner for outdoor use. Unlike quartz and some natural stone slabs, Magnifica® Porcelain is rated for exterior use, allowing designers to create continuity between indoor and outdoor spaces.
The large and lean Magnifica® porcelain panels (60"x120" in 6mm, 60"x126" in 12mm) and tile (30"x30") pair beautifully to bring a whole room together. Use the tiles on the floor and the larger panels on the counter, island and backsplash.
Six amazing options
Achieve unparalleled stone detail in our four stone-look options.
Choose Cementi and Pure White for more sleek and industrial designs.

Low maintenance and easy to clean. Withstands scaling, moisture and stains and is resistant to scuffing, scratching, fire and heat. And because of its large size, Magnifica® alleviates the amount of grout needed for your project, leaving a seamless and elegant appearance. Unlike natural stone, porcelain never needs to be sealed.
Light weight and sustainable. Weighs a fraction of traditional tile and stone slabs, yet is durable and ideal for both new installations and remodels since it can be installed over existing surfaces, thus saving valuable construction time. It saves cost on tear-outs and significantly reduces waste in the landfills. Magnifica® is produced in a state-of-the-art facility with a sustainable, green, environmental-friendly process that reduces, reuses and recycles.
Varied sizes and profiles work for different surfaces. The thin 6mm profile, in 30"x30" tile and 60"x120" slab, are perfect for floors and walls as they are light and easy to install. For counters and shower walls, we recommend the 60"x126" which is slightly thicker at 12mm. The thicker, longer option offers more surface and handles well with cuts for shower fixtures and sinks. Because Magnifica® is so lightweight, it can be used not only as a countertop, but as cabinet doors and drawer fronts.
Take it outside. Because Magnifica® is porcelain, it creates the opportunity to use indoor surfaces outside, obtaining an elegant effect of continuity and depth. It offers aesthetic continuity between spaces thanks to the adaptability of Magnifica® to both dry and wet environments, allowing for perfect placement on any type of outdoor foundation. Magnifica® can also be used as a Ventilated Facade System (VFS), an exterior cladding choice for buildings which combines aesthetic appeal and thermal performance.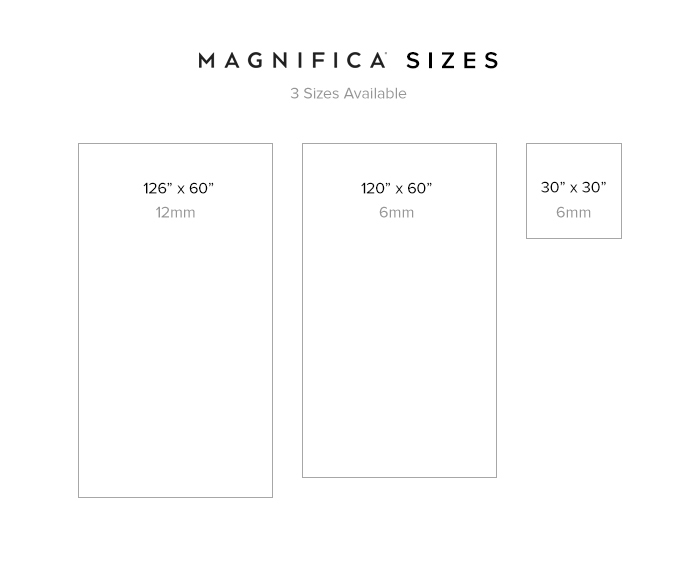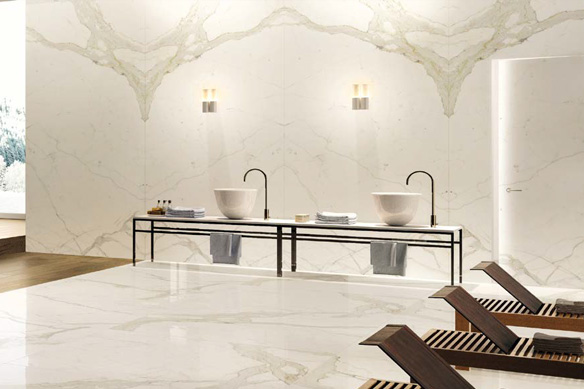 Bookmatching refers to the practice of matching two (or more) slabs and placing them side by side to mirror each other – much like an open book. The ultimate in opulence, bookmatched (also known as butterflied) slabs are stunning and is typically displayed across a large area so the full effect can be captured. The slabs can take on a look of abstract art and create stunning stonescapes that will elevate the style in the room.
We offer Magnifica® in two bookmatched options, one in Calacatta Super White and the other Statuario Super White in the 60"x120" sizes.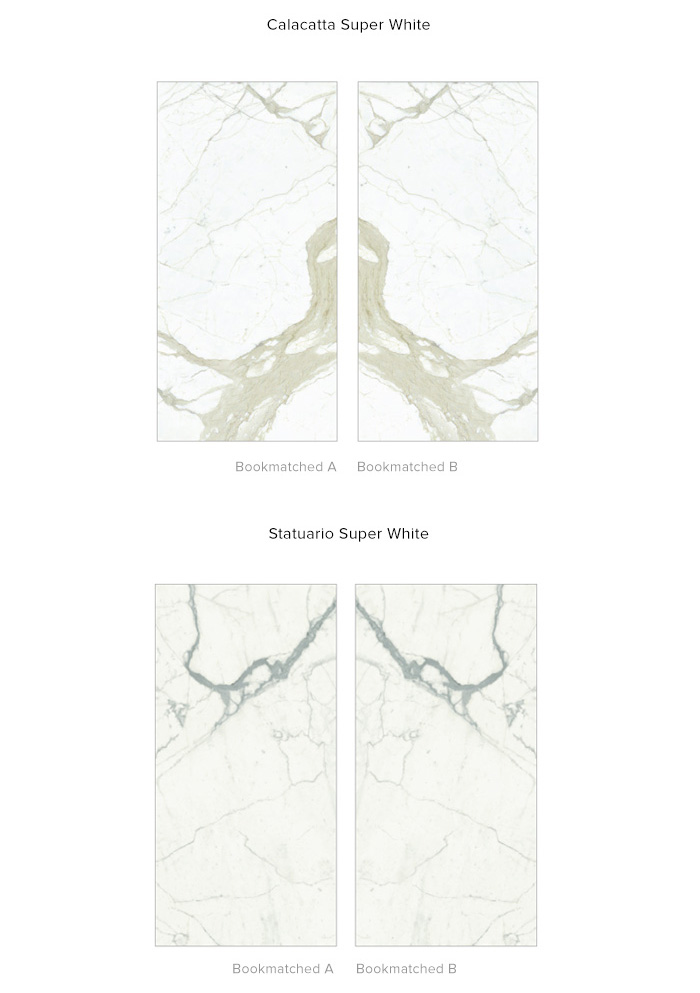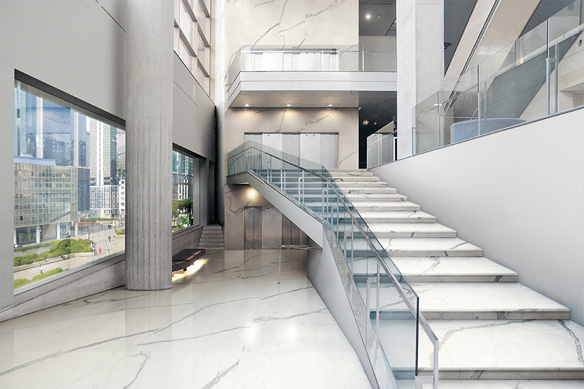 Because Magnifica® is meant to replicate the beauty of natural stone, the patterns in the stone must vary as well or the end result looks unnatural. To achieve the randomness found naturally in marble, we offer four unique faces in Calacatta Super White, Statuario Super White and Lincoln Super White in the 60"x120" sizes. For a large wall or floor, you can lay the faces in sequential order to create the illusion of a massive single piece of stone. Or, you can set them randomly in different compositions to create a non-uniform look.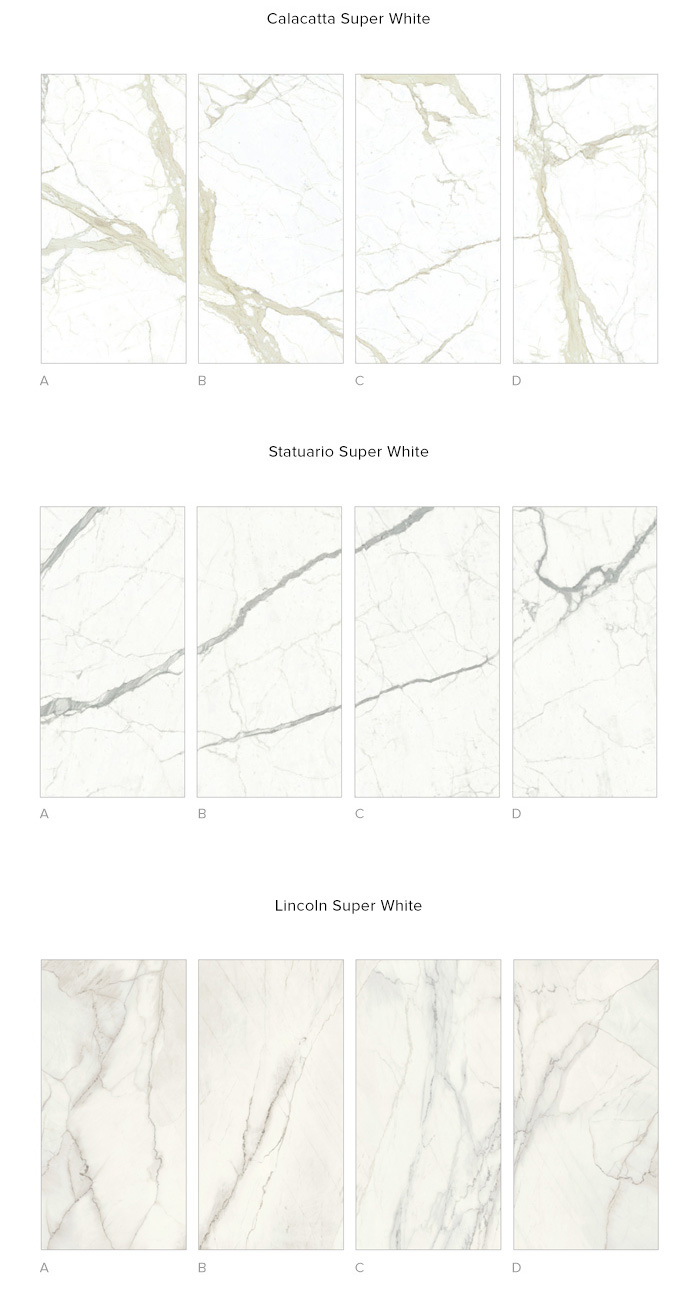 Dream big with Magnifica® Porcelain! To get started on your next project using this revolutionary new product, download our tearsheet or explore Magnifica® on our website.