By Bedrosians Tile & Stone | 2/7/2018
Sometimes choosing your grout color is the very last choice or even a forgotten detail in your project, but grout has an incredible impact on your tile and the space around it. It seems odd that grout, which is essentially the paste that fills the spaces between your tile, can be a significant design element in your room, but sometimes it can make all the difference. You can be subtle with it and choose something that blends or be bold and contrast it to your tile, or go somewhere in between. Let's explore the different ways grout will play a role in your next project.

Here are three approaches to grout color with the same tile - Traditions 3"x6" ceramic wall tile in Ice White Matte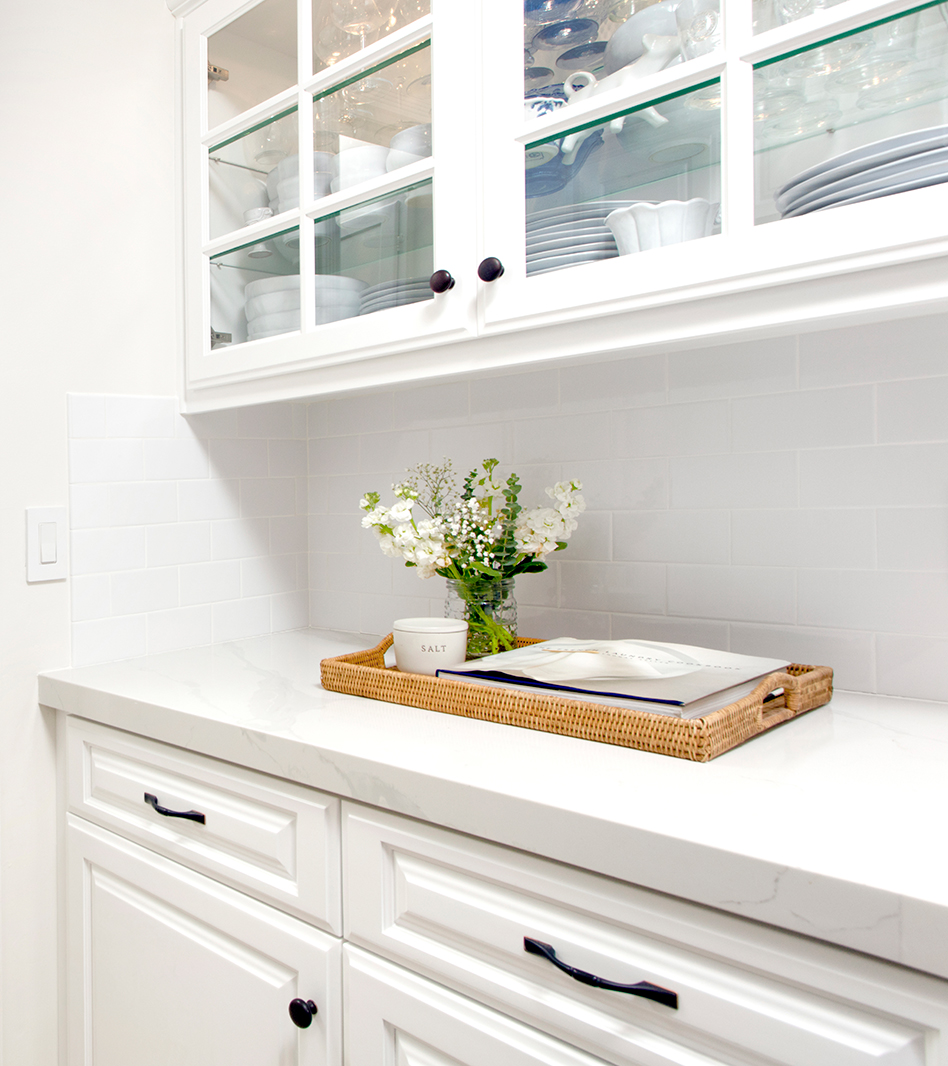 White grout with white 3"x6" tile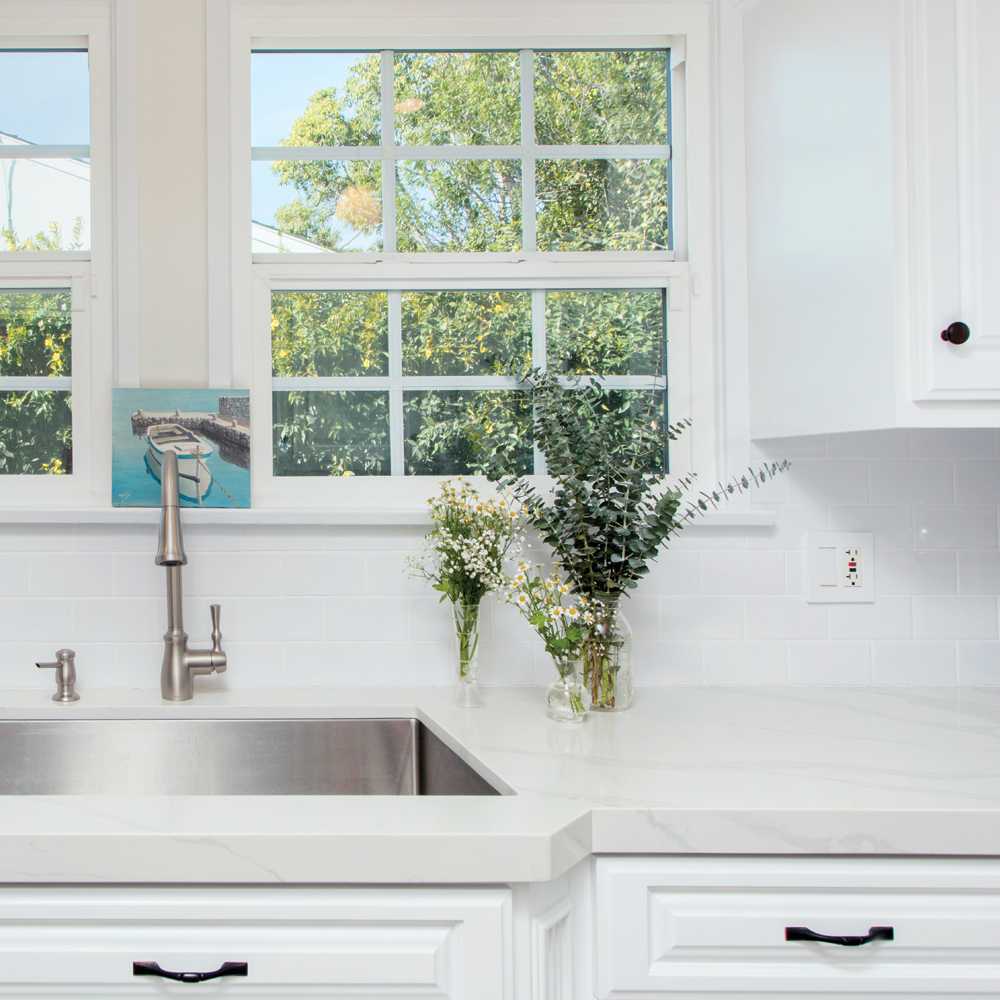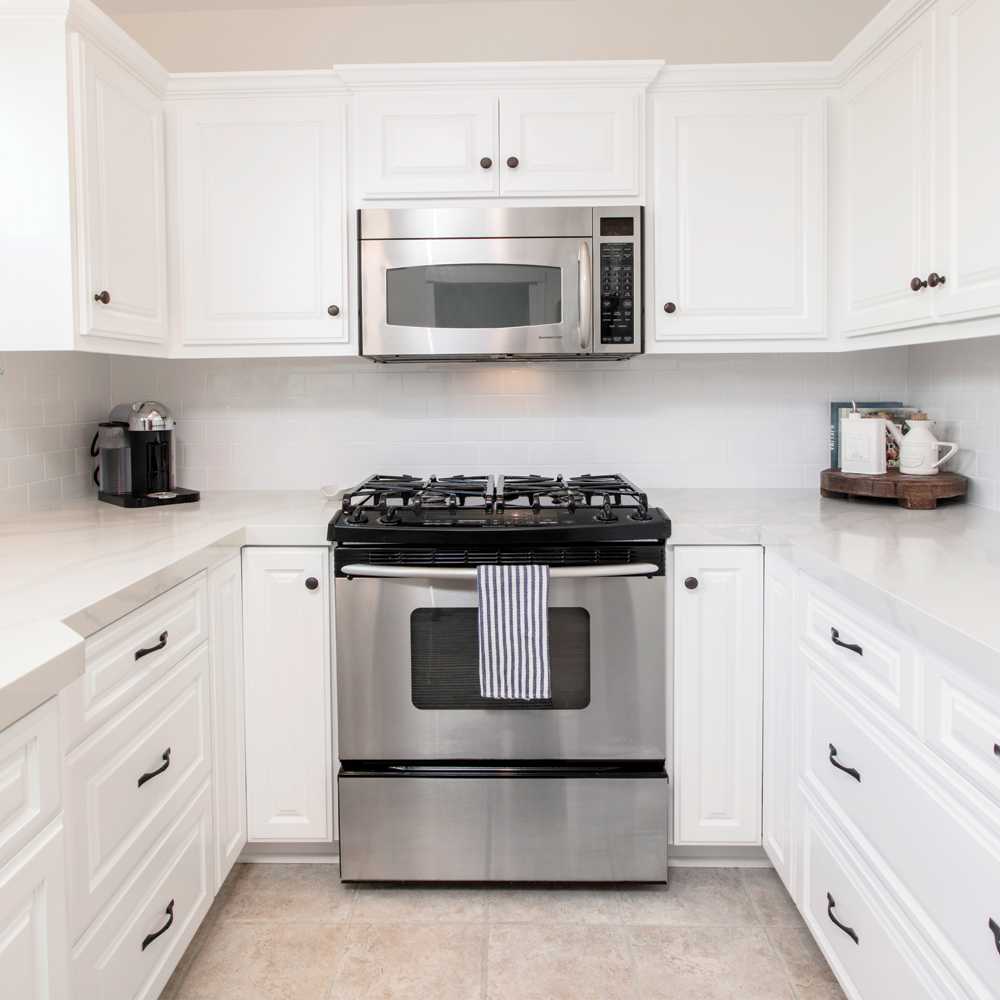 When matching, the main color of the tile and the grout are the same. A classic, clean and safe option, your tile will appear more seamless, creating a uniform look. It lets the tile do the talking and gives the illusion of a solid surface. When white or very light tile is paired with a matching white or almost-white grout, the lines between tiles visually disappear and the entire surface blends together. The result is a look that doesn't tend to draw attention.

To contrast, the tile and grout you choose are opposites. To dial up the style and add some drama, try a grout color that completely contrasts to your tile. You will create a bold, dynamic look that shows off the tile pattern and lets the grout be part of the overall design. Here the designer chose black grout to pair with the stark white tile. The black fixtures are now highlighted and add to the dramatic look.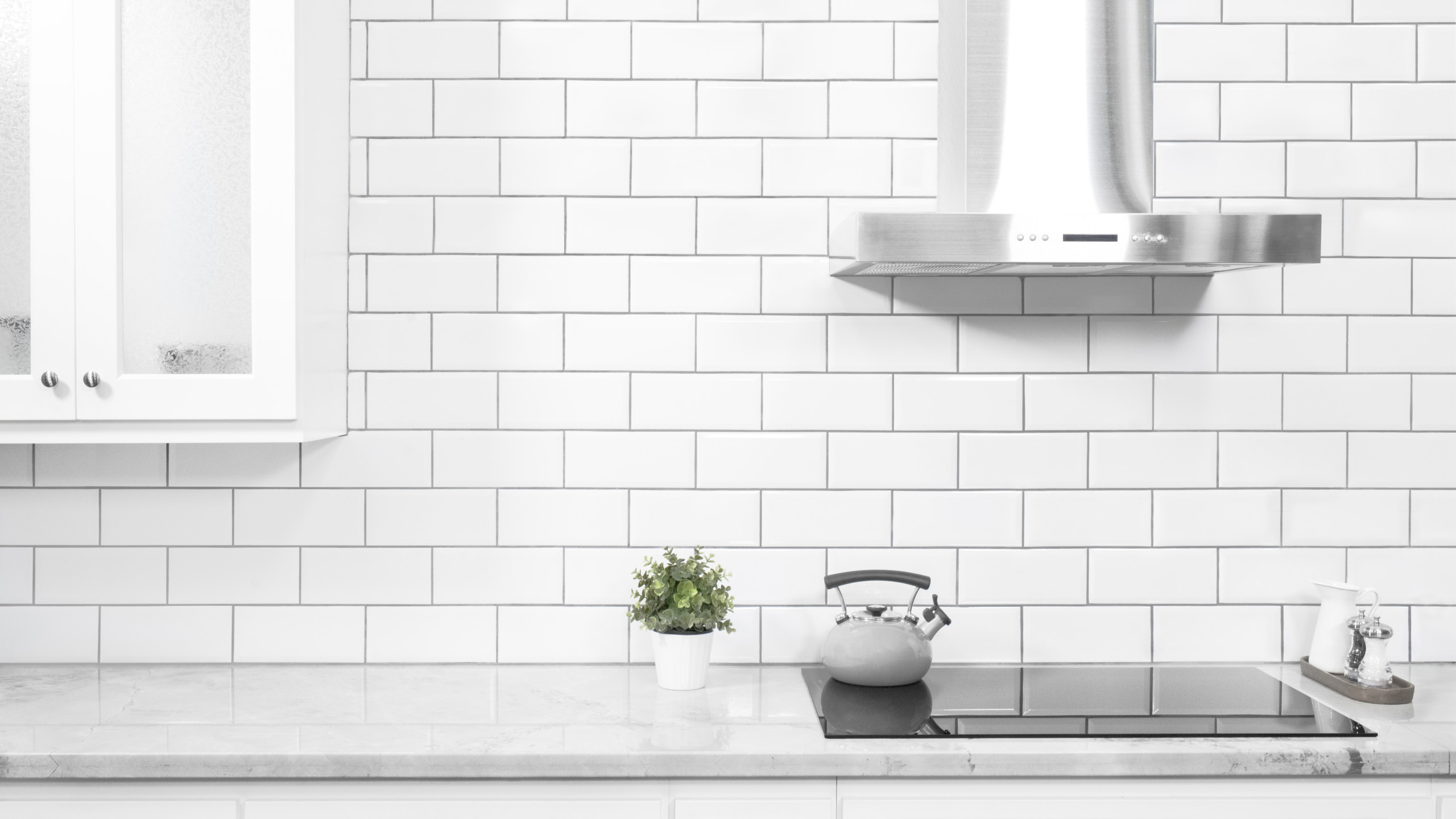 Grey grout with white 3"x6" tile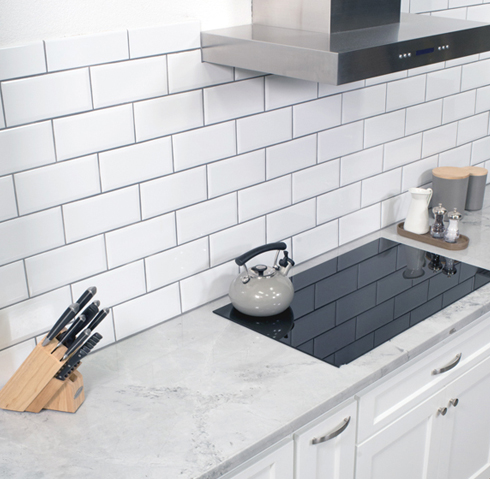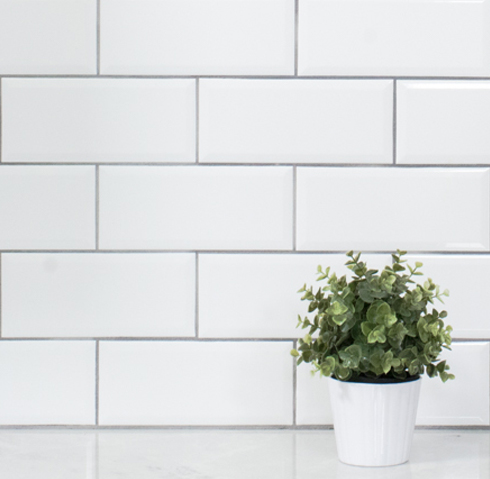 When going neutral, the tile and grout are not the same color, but complement each other in a subdued way. Once you start to add a light contrast between your tile and grout, the shape of the tile is revealed more clearly, and the grout itself forms a pattern out of the negative space. When using a solid color tile, try picking up a color in your countertop, floor tile or cabinetry. The color will accent the tile, yet not become a major focal point.
HELPFUL TIP: Most stones and some ceramic or porcelain tiles need to be sealed before grouting. This is especially true when using grout as a contrast to the tile color. if the tile you selected requires sealing, follow the directions on the sealer label for surface preparation, application methods, drying time, etc. Grouting unsealed tiles can result in a difficult clean up and may result in a less than satisfactory appearance. If you are unsure if your tile requires sealing or what kind of sealer is appropriate, please ask your Bedrosians salesperson

As you can see, the darker grouts really makes the white tile pop, but the lighter selections give it a more subtle look. If you like the pattern of the tile, a dark grout is best. It keeps the grout lines looking clean and sharp and does a good job of concealing dirt in areas with higher foot traffic. We don't recommend a bright white grout for a floor installation in a heavy traffic area, as the light color requires more cleaning to keep it looking bright. Bright white grout is used more often for backsplashes or light-traffic floors. If you want the look of a white/light grout on the floor, don't let that deter you as you can seal the grout to help keep the color bright and keep up on maintenance.
HELPFUL TIP: Keep in mind that light-colored grout can be impractical for areas that get dirty quickly, such as entryways. For high-traffic areas, choose a color that won't need to be washed daily to maintain its look. Colors can be anywhere from a mid to darker grey, beige or brown - depending on the tile color.

Stand Out. Grout color can also be used to call attention to an interesting layout of tiles, such as subway tile laid in a herringbone pattern. It can also emphasize the shapes in a mosaic backsplash, accent wall or floor.
Blend In. When choosing patterned tile, it's a good idea to select a grout color that blends into the base color of the tile so that the pattern isn't interrupted.
Mix It Up. Sometimes you need to use two different colors of grout to emphasize certain details in your tile or tile layout. Choice of grout color depends on what you want to stand out.
Below, the designer chose a neutral grey grout for the main shower walls. The outline is highlighted, but doesn't dominate the look. The white grout used for the inset has a strong contrast to the bright blue tiles, which sets off the squares and the deco pattern.
In the bathroom below, the grout for the subway tile is the same color as the accent mosaic for the trim and inset. The deco is outlined in the color of the main wall tile, creating a pleasant blend of the hues.
HELPFUL TIP: Because cement-based grout, whether sanded or not, is porous by nature, substances like oil, grease, and water tend to seep inside and cause discoloration. The best way to prevent this is to seal your new grout and repeat as needed — every year or so for wall and floor tiles that don't get much moisture, and more often for grout in the shower or on the bathroom backsplash.

Types of grout and when to use them: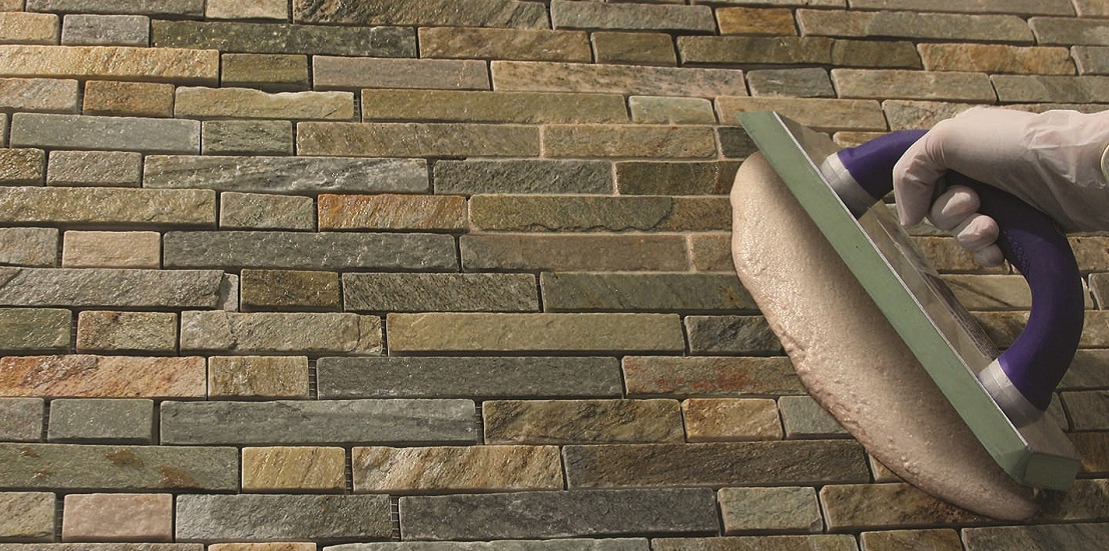 Photo: Bostik
Cement-based grout. This type of grout can either be sanded or non-sanded. Both mixtures are acid-sensitive and absorbent. Cement-based grout tends to be polymer-modified which helps to prevent cracking while adding strength.
SANDED GROUT: Sanded grout types consist of a cement-based mortar that have small sand grains added to it. Sand improves the strength of grout, especially in joints larger than 1/8th inch. Sanded grout helps to support the weight of heavier material and tiles. This is why it is great for natural stone and porcelain tile.
NON-SANDED GROUT: Like sanded grout, non-sanded grout is cement-based as well. With the added strength of sand removed from this type of grout, it is more widely used in floor tiling and wall tiling projects with grout joint spacing between 1/16th to 1/8th inch. Non-sanded grout is also a good choice for glass and highly polished stone such as marble, where sanded grout may scratch the tile surface.
Epoxy grout. This type of grout is impermeable to liquids and doesn't require sealing. This type of grout prevents the growth of bacteria and limits the amount of cracking. The water resistant properties of epoxy grout is great for quarry tile, ceramic, porcelain, and countertops. Epoxy grout most often used in bathrooms, kitchens, and other areas prone to large amounts of water.
HELPFUL TIP: If you're still not sure what color grout to choose, wait until the tile has been installed. Once the tiles have been laid, there will be shadowing where they have been spaced for the grout. This will give you an idea of what the tiles would look like with a mid-colored grout, from there you can decide whether you would like to go for a lighter or darker look.

To learn more about selecting your tile and the best grout to go with it, we have expert staff who are eager to help. Visit one of our locations nearest you.